We are Kristen and Colby Rider and this is Our Story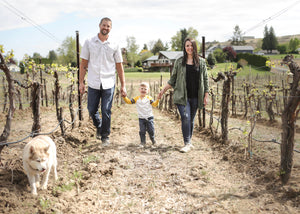 Rider Cellars is a boutique winery located in Selah, Washington. Family owned and operated, each vine in our Estate Vineyard is nurtured by hand throughout the growing season. Just like our family, our vines are rooted and established in love.  In 2016 we decided to pursue the idea of starting our own winery. That idea quickly became a reality when Kristen stumbled across what we call, a hidden gem.  The vineyard was planted in 2000 and sits upon an immaculate piece of land just over 5 acres.  The moment we saw the property we fell in love with it and we knew that this was the place God had picked out just for us. We decided to sell our home in Woodinville, Washington and move to this quiet lovely little town we now call home.  And just like that Rider Cellars was born. 
Our Passion
We believe great wine is made in the vineyard, and we are committed to producing the highest quality fruit each vintage. We don't just make wine, we grow it. We respect the land where our vines are cultivated by using only organic practices through hard work, blood, sweat, tears and determination. We are simply stewards of the land.  Our wines are handcrafted in small batches from single vineyard fruit.  From our soil to your soul, taste the love we have poured into each bottle.